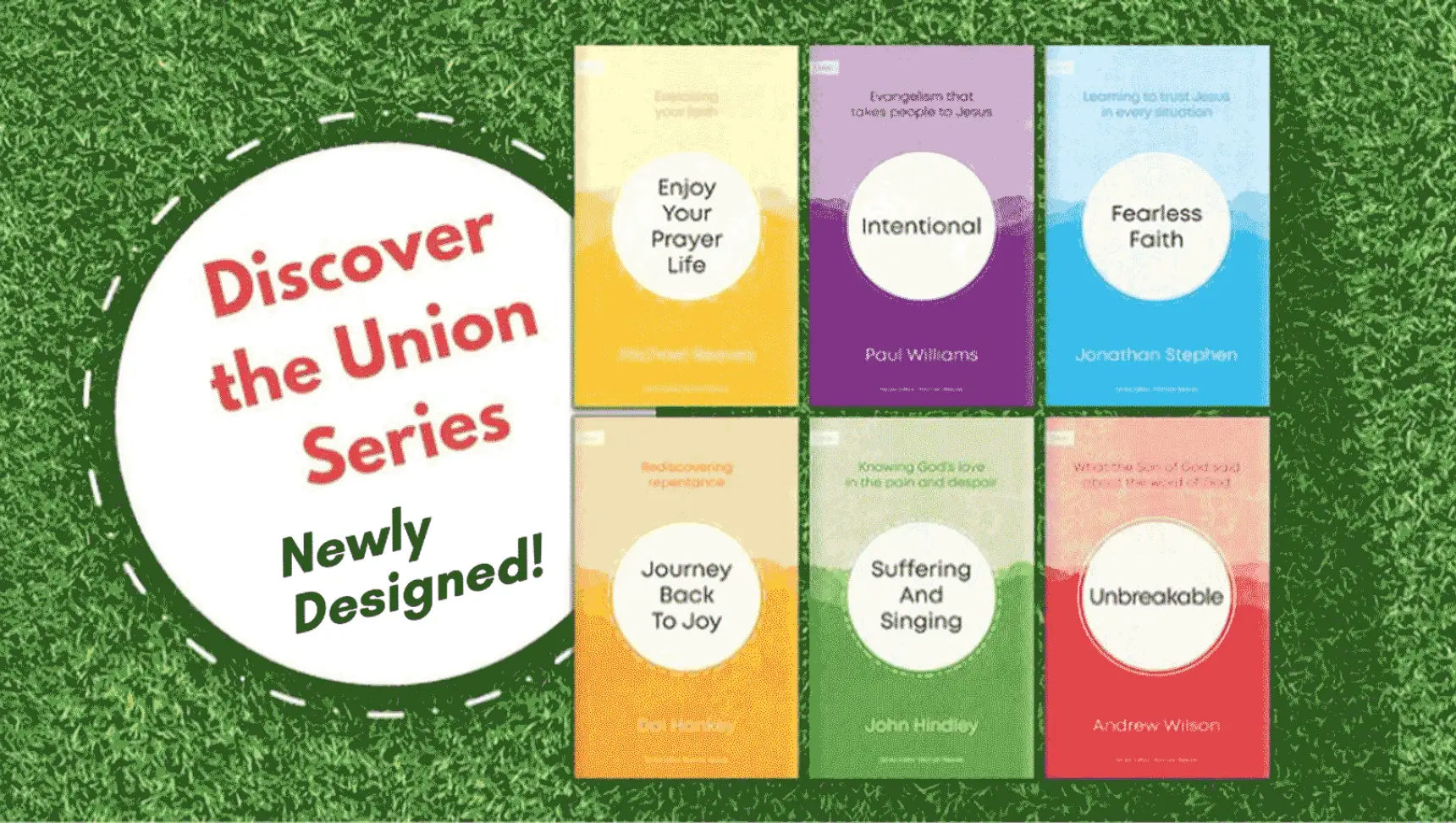 Union Series: Newly Designed
You may already know and love the Union series, a collection of colorful, bite–sized books produced in partnership with Union School of Theology and edited by Michael Reeves. But if you're unfamiliar with them, we're pleased to introduce you, especially in light of the new and attractive cover designs we're giving them this August. 
Enjoy Your Prayer Life: Exercising Your Faith | Michael Reeves 
The fan favorite book in the series (and one of our best–selling books overall), Enjoy Your Prayer Life helps us understand that prayer should be a natural expression of our faith. Reeves, taking his cue from Calvin's definition that prayer is 'the chief exercise of faith,' shows us that just as faith is awakened as we grasp the wonders of the gospel, so prayer follows as our hearts respond to glorious truths. 
Paul E. Miller, author of A Praying Life, says, "Let Michael Reeves nourish and encourage your prayer life! I warmly commend this book to you." 
Suffering and Singing: Knowing God's Love in the Pain and Despair | John Hindley 
As we walk through life, the painful reality of suffering becomes something we all experience. Tears, despair and hurt are commonplace in a broken world. So how do we even contemplate singing at a time like this? In this book, John Hindley takes us carefully through Psalm 44, teaching that 'God has sent our suffering for his sake. Suffering is not a mark of God's indifference towards us, or his hatred of us. Suffering is a mark of his love for us. It shows that we are his.' 
Fearless Faith: Learning to Trust Jesus in Every Situation | Jonathan Stephen 
When fear takes hold we can feel powerless and insipid. Life's spiritual battles become too much and the devil seems to be winning. It does not have to be like this though! We can, and do, have victory in Christ. Jonathan Stephen writes with clarity and compassion to help us understand how the battle against the enemy can truly be won. He uses one of the best–known and most dramatic incidents in the Gospels, the stilling of the storm. As he draws our attention to what Jesus is teaching through this 'faith–training exercise' we join the disciples in discovering that when we are buffeted and frightened by the storms of life we can not only endure, but overcome. 
Intentional: Evangelism That Takes People to Jesus | Paul Williams 
If we're honest, none of us find evangelism easy. We're told we should do it, and we might know that we should be doing it, but the reality is often too scary. Paul Williams is realistic about our fear and guilt, but with gentleness he shows us that the key to banishing our fear isn't complex and clever answers, but rather to take our friends to the person of Jesus. He gives practical examples of how we can naturally and thoughtfully share how Jesus answers, and is the answer to commonly asked questions. 
Rico Tice, senior minister of evangelism at All Souls Church (Langham Place) in London, says, "I'm going to commend this book to the church family at All Souls. Why? Because I love Paul Williams' pastoral heart. When it comes to telling others about the Lord Jesus Christ, he knows people have fears and addresses those fears. I love his methodology. He insists the best answers come from the lips of Jesus and I love the fact he models reaching out to others." 
Journey Back to Joy: Rediscovering Repentance | Dai Hankey 
Sin is serious because God is Holy. Even if we are trusting in Jesus as our Lord and Saviour, the burden of our sin can quickly rob us of our Christian joy. So what should we do when we've done wrong in the eyes of God? This is the question that famously faced King David. 
In this brutally honest and hugely helpful book, Dai Hankey helps us to consider David's spiritual journey. We'll see the mess of David's sin and the depths of his brokenness, but we'll also see that hearing God's word and responding in repentance turned David's life around. Dai 'grabs us by the scruff of the neck' to do likewise and turn to God. As we do, we'll experience afresh the joy of being forgiven, no matter how far we may feel we've fallen. 
Unbreakable: What the Son of God Says About the Word of God | Andrew Wilson 
The book is especially unique. It stands out because, unlike most other books on the Bible, it doesn't start with a bunch of objections that people have to the scriptures. Nor does it begin with information about the Bible's authors or the historical contexts they were writing into. Instead, this book uses Jesus as the starting point! As Andrew Wilson explains, 'Ultimately… our trust in the Bible stems from our trust in Jesus Christ…' If you are a follower of Jesus, then you'll be keen to believe what the Bible says– because, as you'll see in this book, that's what Jesus did! Andrew, in his clear and often amusing way, shows us clearly that the Son of God loved and trusted the Word of God – and if anyone sets out that the Bible is trustworthy, authoritative, good, helpful and powerful… then it's Jesus Himself! 
Justin Taylor, blogger at Between Two Worlds and executive vice president of book publishing at Crossway, says, "This short book is a perfect combination: one of my favourite writers, with brilliant thinking and a breezy style, tackles one of the most important issues you could ever consider. The argument is simple yet profound: when it comes to the doctrine of Scripture, we cannot go wrong if we hold to the perspective of Jesus."